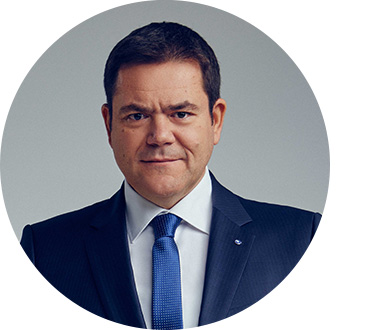 Antonio Argir
Antonio Argir built his entire career in NLB Banka Skopje. He joined the Bank in 1999 as a credit officer for corporate clients, long-term and investment loans, immediately after completing his studies in macroeconomics, finance, and banking at the Faculty of Economics in Skopje.
He was soon promoted to the position of Head of Department - Branch Network Coordination and later into Branch Network Division Manager. In 2015, Argir became a member of the Bank's Management Board. The same year Supervisory Board awarded him the first mandate as CEO and President of the Management Board starting from the beginning of 2016, when he completed his master's degree in business administration at the Bled School of Management. In 2019 he was reappointed with second mandate as CEO and President of the Management Board of NLB Banka Skopje, starting from 2020.
In the Republic of North Macedonia, Argir was a member of the Macedonian Banking Association (MBA), and since 2018 he holds the position of vice president of the Chamber of Commerce of North Macedonia. Under his leadership, NLB Banka Skopje recorded exceptional growth in all segments of its operations and a significant increase in the Bank's profitability, the share price of NLB Banka Skopje increased by five times and is recognized as reputable and stable financial institution and a leader in innovation and digitalization of banking products and services on the market.
After six years of successful management of NLB Banka Skopje, in January 2022, Antonio Argir was promoted to a new position at the headquarters of NLB d.d. Ljubljana, as Executive Assistant to the Management Board of NLB d.d., responsible for managing the NLB Group. Only few months later, in May 2022, Argir becomes a member of the Management Board of NLB d.d., responsible for Group Steering, Payments and Innovations.
---
Arthur Keleti
Cyber-secret futurist, IT Security strategist, speaker, writer, and movie producer. Founder and main organizer of the long-running East-European cybersecurity grand conf-expo ITBN, the event showcased a popular two-day virtual TV program in 2021. The President and founder of the Voluntary Cyber Defence Collaboration. He is the author of "The Imperfect Secret," a book on cyber-secrets and the future of AI-based privacy. As a researcher, he is a speaker of local and international events and a guest on TV and radio programs. His focus of interest is the future of cybersecurity, artificial intelligence, and the social and technological impacts of digitalizing human and organizational secrets. He is also an Executive Producer of the movie SIGHT: Extended, a stunning, Augmented Reality themed Sci-Fi thriller. He has worked for T-Systems Hungary as IT Security Strategist since 1999.


---
Boris Martinovic
Boris has been Director of Public Policy for Hungary and Slovenia at Mastercard since May 2018, and for Austria since February 2020. He is responsible for the development and implementation of Mastercard's local public policy strategy in Austria, Hungary and Slovenia, as well as the local execution of Mastercard's European and global public policy agenda. In his work at Mastercard his main focus has been the reduction of shadow economy through electronic payments, promotion of financial awareness and digitalization both at national and regional levels, enablement of smart city collaborations with local authorities, and public policy support for the topics of instant payments, strong customer authentication, the Payment Services Directive and e-mobility. In addition, Boris manages Mastercard's Hungarian "BeyondBAU" strategy, which focuses on non-traditinal topics such as CSR, education, data philanthropy and sustainability.
Prior to joining Mastercard, Boris worked for ten years at the Hungarian Competition Authority, first in antitrust, and later in merger control, where he was Head of Merger Section for a year. Boris graduated from the Budapest Corvinus University in 2008, acquiring a masters degree in finance. He later studied public policy in Tokyo between 2014 and 2015. Outside of work his two primary hobbies are literary writing (Boris is a published author of fiction) and martial arts (kenjutsu).
---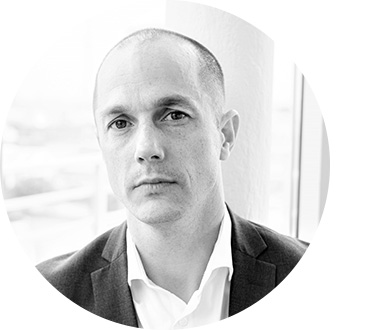 Christian Rau
Since April 2022 Christian Rau holds the position of Senior Vice President Crypto and Fintech Enablement for Mastercard in Europe.
In close cooperation with European and global account and product teams and our customers and partners he works on designing and deploying innovative digital payment propositions.
Heading the Central European Product Team between 2015 and 2019 he was responsible for the introduction of Debit Mastercard in Germany and Switzerland.
Subsequently he led the Mastercard Vienna office as General Manager for the Austrian Market. Christian joined Mastercard in 2012 after having held positions in the telecommunication and banking sector.
---
Gabriella Biró
Ms. Gabriella Biró is the Head of IT Supervision at the Central Bank of Hungary. She has an MSc in computer science from the Eötvös Loránd University of Science and obtained her IT security related experience at different banks and advisory companies. She worked as IT security manager at the Budapest development center of Tata Consultancy Services, IT security advisor at KPMG and PwC and head of IT security at Banco Popolare Hungary. Later she became the Chief IT Security Officer, then Chief Security Officer of UniCredit Bank Hungary. She joined the Central Bank of Hungary in January 2018 as the Head of IT Supervision. She holds Certified Information Systems Auditor (CISA), Certified Information Systems Security Professional (CISSP), Certified Ethical Hacker (CEH) and Certified Fraud Examiner (CFE) certifications and is the Board member of the (ISC)2 Hungary Chapter and co-founder and board member of WITSEC (Women in IT Security).
---
Harald Waiglein
Harald Waiglein joined the Austrian Federal Ministry of Finance in 2007 and, after having worked in various areas including taxes and the political offices of two Ministers of Finance, was appointed Director General for Economic Policy, Financial Markets and Customs Duties in 2012. His current responsibilities include Ecofin and Eurogroup affairs, international financial institutions, export credit agencies, development assistance, macroeconomic analysis and advice, financial markets regulation and customs policies. His numerous international functions include the position of Chairman of the Board of Directors of the European Financial Stability Facility (EFSF), Chairman of the EU Financial Services Committee (FSC), and Chairman of the Board Risk Committee of the European Stability Mechanism (ESM). Before joining the Ministry of Finance, Mr Waiglein worked as a financial journalist and professional interpreter and translator. He holds a master's degree in finance and financial law from the University of London, and a master's degree in interpretation and translation from the University of Vienna.
---
Kornél Kalocsai
Kornél is a blockchain and crypto expert and consultant, the co-founder and CEO of Kripteus, a company dealing with crypto-taxation and crypto-related banking compliance issues, and one of the hosts of the Kripteus YouTube channel, where questions related to the functioning of the crypto world are discussed daily "so that even Grandma can understand ". As of 2018, as a pro bono activity, he is the founder and president of the Blockchain Hungary Association, an active player in the domestic and European blockchain community, a member of the Blockchain Working Group established by the Ministry of Innovation and Technology, and a founding and board member of the Blockchain Coalition established at the beginning of the year. Its goal is to increase the domestic awareness of blockchain technology and cryptocurrencies.
---
Dr Louise Beaumont
Dr Louise Beaumont leads Mastercard's efforts to shape a policy environment conducive to incumbents and innovators delivering Open Banking and Open Finance's full potential – to the ultimate benefit of consumers and businesses, and the economies and societies that they comprise.  Her remit includes the countries and regions outside of North America.  This role builds on the work she has done over the last dozen years with legislators and regulators to create disruption, with corporates to cope with disruption, and with start-ups to exploit disruption – with open and accessible data as the guiding principle.
---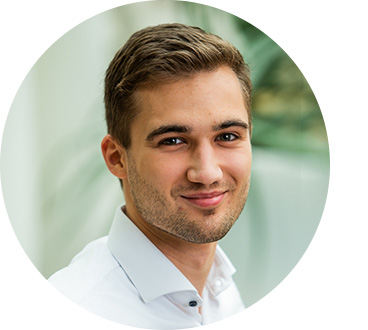 Máté Nemes
Máté Nemes joined Mastecard six years ago as a business analyst. Since 2017 he is part of the Central European product development team, responsible for fraud prevention and cybersecurity solutions. He played a key role in the introduction of strong customer authentication in Hungary.
---
Mattias Levin
Mattias Levin is the deputy head of unit of the Digital Finance unit of the European Commission's Financial Stability, Financial Services and Capital Markets Union DG ("FISMA"). At FISMA, he has previously worked on regulation related to banks, investment firms, conglomerates and financial market infrastructures. Before joining DG FISMA, he was a member of the Bureau of European Policy Advisers (BEPA), a think tank attached to the President of the European Commission. Prior to joining the Commission, Mattias was a Research Fellow at the Centre for European Policy Studies (CEPS). Mattias studied at the London School of Economics, Lund University and the Institut d'Etudes Politiques of Strasbourg.
---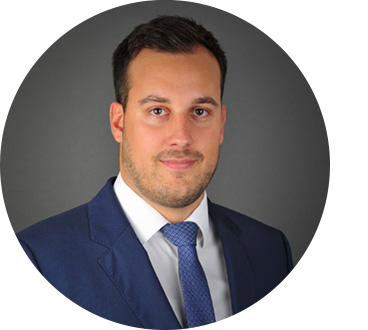 Miha Goriup
Miha Goriup is a Chief Legal Officer with Paywiser d.o.o. and holds an LL.B. from Faculty of Law, University of Ljubljana, Slovenia. He is a legal advisor with understanding of business and legal requirements for both FinTechs and Virtual Assets Service Providers (VASP). He is specialised in AML and PSD2 compliance, with strong background in regulatory compliance for Payment/E-money Institutions. With his interests and experience with projects in Blockchain and Cryptocurrencies space, he is leading Crypto Iniciatives Programme within Paywiser aimed at collaboration between traditional financial sector and VASPs.


---
Peter Bakenecker
Peter Bakenecker is President of Mastercard's Central Europe region. He is responsible for leading Mastercard's strategy and operations in Austria, Czech Republic, Cyprus, Germany, Greece, Hungary, Malta, Poland, Slovakia, Slovenia and Switzerland.
Since joining Mastercard in 2006 Peter held various management positions, including Head of Product, Business Development as well as Digital Payments for Europe. For many years he was part of the Mastercard Advisors' management team for Europe, Asia-Pacific and MEA, where he had the opportunity to design and build payments technology solutions in various geographies for different industries. Previously Peter was Division President for Germany and Switzerland.
Before joining Mastercard, Peter was with Batten & Company as well as Roland Berger Strategy consultants as part of their financial services practices.
Peter holds an MBA in Banking & Finance from the University of Essen/Duisburg and the University of Technology in Sydney. He completed executive programs at the London School of Economics and Political Science.
---
Petia Niederländer
Petia Niederlaender is Director for Payments, Risk Monitoring and Financial Literacy of the Austrian National Bank (OeNB). From 2012 to 2020 she served on the board of EBA Clearing and was lastly acting as chairperson of the board. Prior to joining the OeNB, Petia had several management positions in Payments and Banking Operation at Erste Group and represented Erste Bank as well as the Austrian payments community in several national and international bodies. She holds a master degree in Investment Banking and Business Administration from the Vienna University of Economics.


---
Remco Veenenberg
Remco has extensive experience in working & collaborating with Banks, FinTechs, and the entire ecosystem. Having had positions as head of partnerships, strategic relations, and sales, has given him an extensive network within the FinTech & Startup network. With a keen interest in creating mutually beneficial partnerships between Banks, FinTechs, Startups, and more, bringing legacy together with new innovations is a key part of my role. Besides all this, I've been an ambassador for Revolut for several years, and keep a close eye on the neobank & DeFi space. Remco firmly believes that a seamless, personalized and nearly invisible banking experience is the future we should be headed towards, not even mentioning the massive opportunity DeFi and Crypto pose for banking the underbanked in APAC, Africa, South America, and so on.
---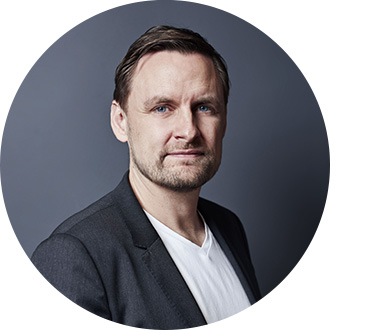 Rune Mai
Rune Mai is the CEO & Co-Founder of the European open banking leader, Aiia, a Mastercard company and the leading money app, Spiir, which has more than 500,000 users across 18 countries in Europe. Last year Rune Mai's long journey in building two successful fintech firms was acquired by Mastercard. Today Rune heads up open banking product development and strategy for Mastercard in Europe.
With more than 10 years of experience in the fintech field, Rune is one of the most influential voices in Nordic and European fintech. His vision is to create frictionless financial futures for millions of European consumers and businesses with seamless access to financial data and open banking payments. Aiia, a Mastercard company empowers major banks, fintechs, accounting systems, payment service providers and more to innovate and build open banking solutions to the benefit of consumers and businesses.
With a purposeful drive of making money easier for everyone, Aiia, a Mastercard company was built and launched to standardize the format of financial data and payments - and Rune Mai has played an important role in accelerating financial innovation in Europe.

---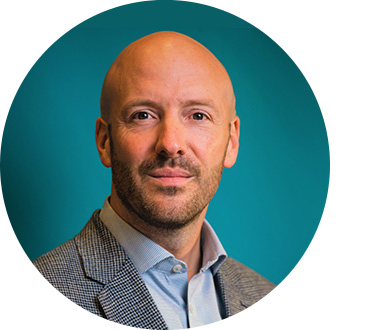 Steve Brown
Steve is Mastercard's European lead for cyber security and resilience. He is responsible for the implementation and integration of Mastercard's Cyber Security Framework including data breach detection and cyber risk and resilience technologies and capabilities across all related stakeholders including Issuers, Acquirers, Merchants and Governments. Steve also works to build and maintain strategic relationships with both internal, external, private and public sector parties, working with Global teams to understand the needs of customers and technology required to detect and protect customers from Cyber Crime and ensure legislative and regulatory compliance.
Prior to joining Mastercard, Steve was a Senior Manager at the UK's National Crime Agency where, as Head of Cyber Threat Intelligence, he led the UK's strategic response to Cyber Crime.
During his 17-year career within UK Government, Steve also served as the UK's Cyber Attaché to the USA during 2016-2019, embedded with the FBI Cyber Division at National Cyber & Forensics Training Alliance (NCFTA). Steve was responsible for diplomatic and political relationships and negotiations relating to the investigation of cyber criminality affecting the UK and USA.
---